All diamond jewellery from Isabel Bernard is made of high-quality diamonds and 14 carat real gold. The jewellery remains stylish and beautiful throughout the years and retains its value.
A piece of diamond jewellery is not something you buy just like that and we think it is very important to inform you as good as possible about this beautiful and valuable product. That's why you'll find everything you need to know about our diamonds on this page. 

The quality of Isabel Bernard diamonds
The value of a diamond is determined by four different characteristics: the weight (carat), the colour, the clarity and the cut. These factors are also called the 4c's. These characteristics give indications about the quality of the diamond and help to identify the stone.
| | |
| --- | --- |
| Carat (weight) | The weight of a diamond is expressed in carats and tells you more about the size of the diamond. For example, 1 carat equals 0.2 grams and is expressed on a scale of 100 points (or 200 milligrams). At Isabel Bernard, you will find diamond jewellery between 0.05 carats and 0.28 carats. |
| Colour | Diamonds are also carefully studied for colour. The colour of the diamond is determined by means of an internationally recognised colour set. The colours vary from D (colourless) to Z (the yellowest tint). The more colourless the diamond is, the more valuable it is. Isabel Bernard's diamond jewellery is between F and G, which means it is considered colourless. |
| Clarity | In the centuries-long process of forming diamonds, other elements can creep into the stone. These are also called inclusions. These element particles can vary from small traces that are hardly visible, to larger traces. The fewer inclusions, the more light the diamond lets through and the more beautiful the diamond can shine. At Isabel Bernard, you will find diamond jewellery of purity SI (slightly included). However, these are not visible to the naked eye. |
| Cut  | The cut of a diamond determines its brilliance. This property refers to the shape in which the diamond is cut and the symmetry of the various facets. Only with a perfect finish can the light travel optimally along the facets of the diamond and create a breathtaking brilliance. The brilliant is the most famous cut and therefore all Isabel Bernard diamond jewellery has this same cut. This cut has 57 facets and with its exceptional brilliance it has a modern, timeless look. |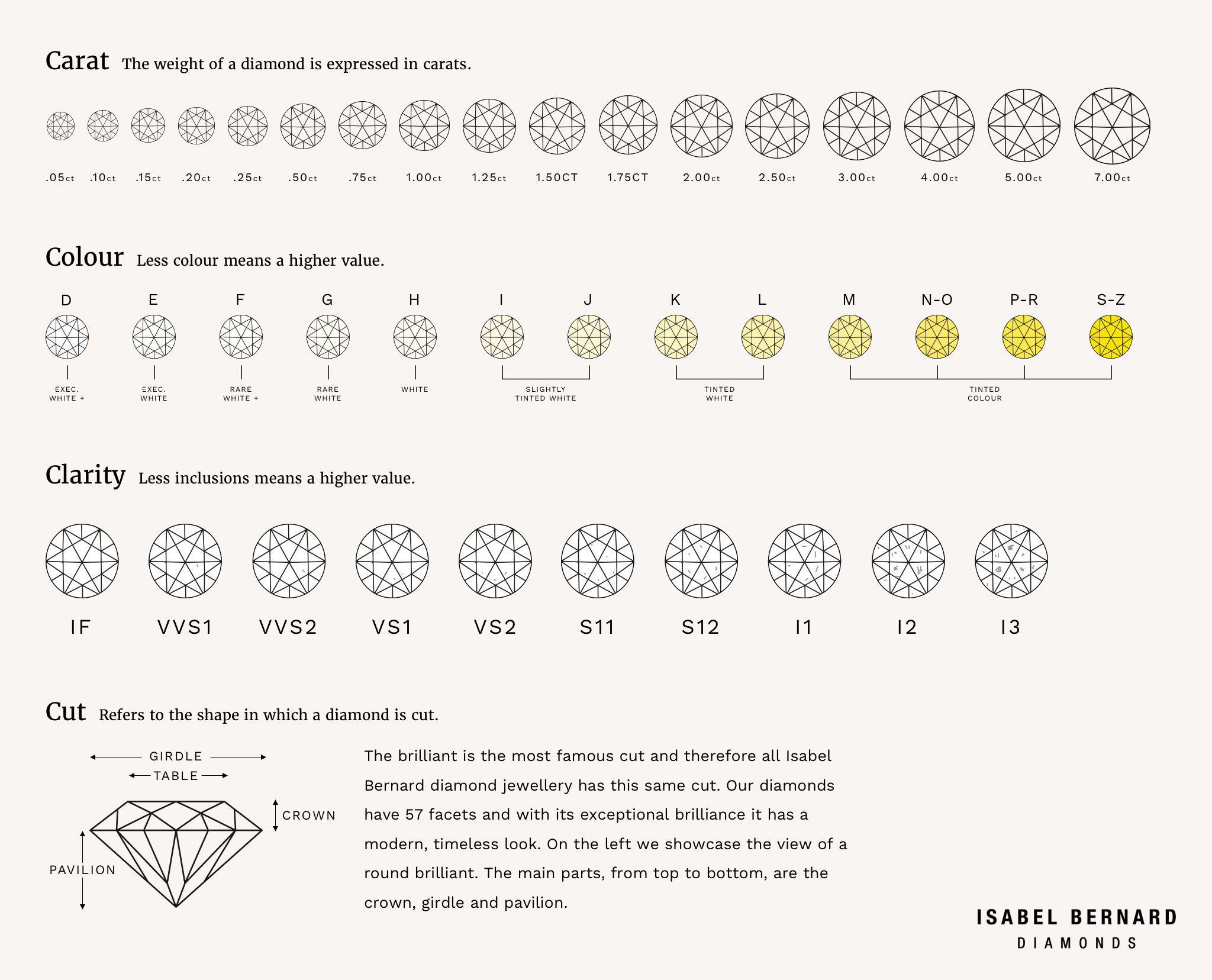 Storing diamond jewellery
It is very important that you store your diamond jewellery in the right way. Diamonds are a very strong natural material which makes them almost scratch-free. Except from other diamonds. So be careful with this and don't store your diamond jewellery together so they can't damage each other!
Diamond jewellery can also scratch your other silver, gold and platinum jewellery. To prevent this, store your diamonds in a separate cloth bag, a separate jewellerybox, in blotting paper or in the original packaging. 
Maintaining diamond jewellery
A diamond will never lose its shine but can become slightly dull by things like skin fat, oil, soap, etc. This also applies to the jewellery in which the diamond is placed. We therefore advise you to polish your diamond jewellery once a month to make it shine again. Cleaning your diamond jewellery can easily be done at home.
You can do this by making a cup of lukewarm water with a little green soap and let the piece of jewellery soak in it. Then polish your jewellery with a soft, clean toothbrush. When you have finished polishing, rinse your jewellery well to remove all soap residues. Then dry your jewellery with a microfibre cloth. You can also let them air dry.
It is advised to have your diamond jewellery checked once a year. If there is any sign of wear or a loose stone, you'll be on time and you won't lose your diamonds.
Diamonds as an investment
Besides the fact that diamonds are irresistible, they are also a smart, long-term investment. Diamonds are very rare, durable and the international demand for diamonds keeps rising. So if you're looking for a beautiful piece of jewellery that retains its value, then diamond jewellery is definitely the way to go!