Complete your festive outfit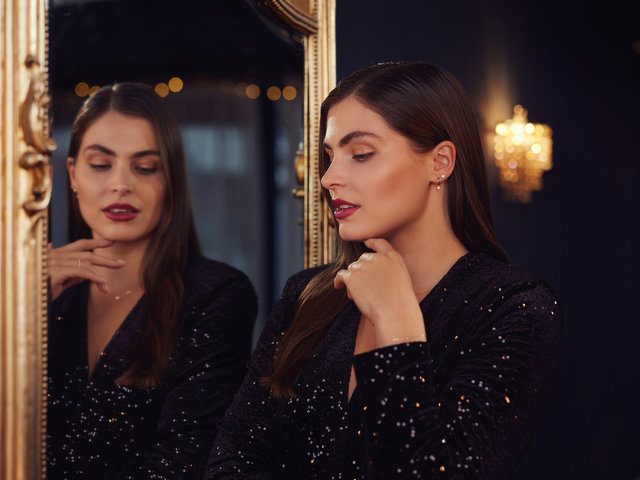 The prettiest outfits, flawless make-up and gorgeous accessories and jewellery: with the holidays, you can unabashedly go all out with your look.
Of course, there are no rules for the perfect outfit but at least it should be festive! Keep reading to find out how to put together the perfect outfit for the holidays.
The outfit
First of all, start by picking out your outfit. This, of course, forms the basis of your look. Whether you go for glitter and sequins or something a little more low-key, it's all possible! Glitter is always a good choice, but fabrics like velvet and satin are also very popular during the holidays. Will you go for a festive dress, a jumpsuit or a satin blouse? The choice is yours!
The shoes
Shoes make or break your outfit. When it comes to festive shoes, a nice pair of pumps comes to mind pretty quickly. Pumps are always a good choice if you are going for a chic or sexy look. A pair of boots are also definitely a good option to complete your party outfit. Choose elegant short boots, for example, or go for a gorgeous pair of high boots such as over-the-knee boots.
Are you not such a fan of high heels or do you already know you have to stand all evening? Then opt for a pair of loafers or ballerinas. These shoes don't have a high heel but are still very chic, elegant and incredibly comfortable.

The bag
A bag is also a must-have to complete your party outfit. Choose a handbag or a crossbody bag to complement your outfit. You probably won't need a lot of stuff during the holidays but with these bags you can carry your essentials like your wallet, phone and lipstick with you in a stylish way. Subtle colours like black and cognac always do the trick but a bag in taupe or bordeaux is also perfect for the holidays!
The jewellery
The jewellery you pair with your party outfit makes all the difference and takes your look to the next level. Want to stand out? Then choose big earrings like hoop earrings and drop earrings or steal the show with the most stunning diamond jewellery. Do you want your jewellery to provide more of a subtle touch? Then choose a minimalist pair of earrings, an elegant necklace or a subtle gold ring.
Is your party outfit all black and you just want to add a bit more colour? Then jewellery with a bit of colour is never wrong. Colours like green, red and blue are perfect colours for the holidays and go with almost everything!
What are you wearing this holiday season and what items will you use to complete your party outfit? Hopefully these tips will help you put together your perfect party outfit!
Happy holidays and may you all look fabulous!